About three years in the making, an art project I recently completed started as a found piece of chipped wood from a tree in the Blue Ridge Mountains of North Carolina. For the longest time, I had held onto the vaguely bird-shaped object, unsure whether to finish it or how, until I had the opportunity to fashion a temporary artist's retreat at a friend's Northeast Florida property.
Sunrise at Starma Yarden, Jacksonville, Florida (2018).
The outdoor world where I spent a dozen or so weekends last fall and winter was an inspiring place, full of beauty and everyday wonders. While I was there, I meditated, wrote in my journal, went on photo hikes, cooked my dinner over a campfire, and made art.
I marveled at how many different species of birds I saw (and sometimes only heard) during my stays: owls, crows, hawks, osprey, cardinals, pileated woodpeckers, wild turkeys, herons, egrets, blue-jays, and a roving flock of hungry and sociable goldfinches were regular visitors. Other critters I encountered included raccoons, opossums, wild hogs, and some of the weirdest bugs I've ever seen.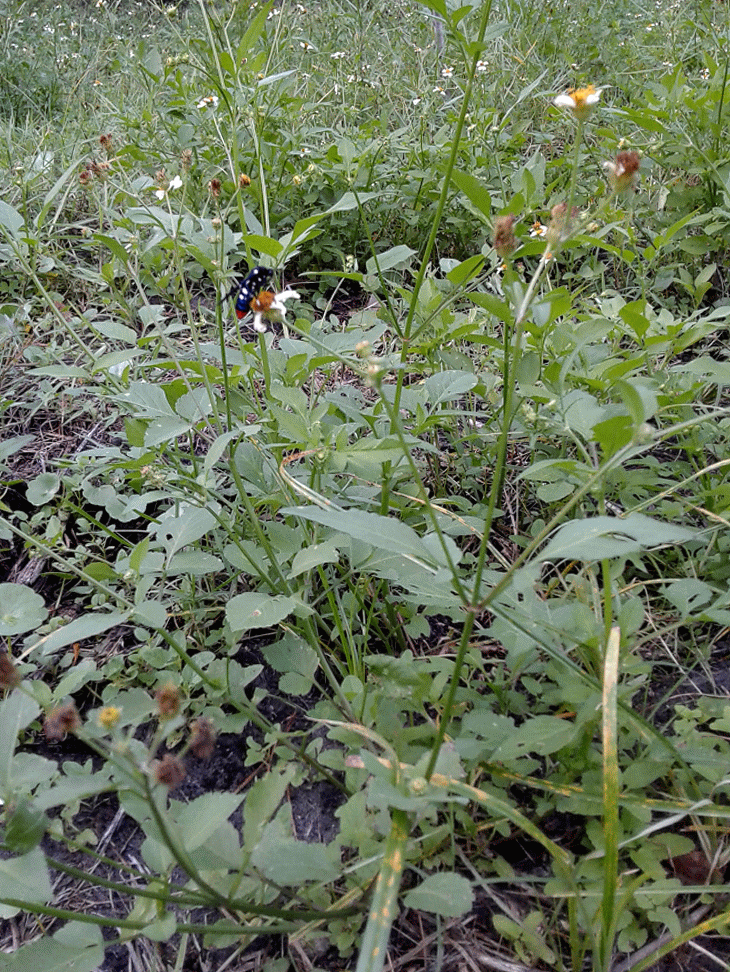 An unidentified, polka-dot-winged, blue-and-red-bottomed pollinator I encountered at Starma Yarden (2018).
One weekend in December, I had brought the bird-shaped piece of wood to my retreat and decided to start painting it. I began with just a coat of white primer, then layered on some gray and black, leaving a mask around the eyes. After the first pass at a paint job, it looked like this:
Bird in progress, pictured with a wild hog's skull I found on the property (2018).
By this time, I had decided the bird was destined to be a blue-jay, so before my next outing, I downloaded some images of blue-jays so that I could copy their markings onto my found sculpture. I was pleased with the results, but frustrated with the difficulty of displaying it in three dimensions. Here are two shots showing my attempts to make the blue-jay sit in a tree.
Views of blue-jay painted on found wood (2019).
I was thinking it would be great to find some heavy wire and fashion some legs and feet for this bird, so he could sit on a tree branch without having to be propped up, but there were some drawbacks to that approach. Attaching the legs would require me to drill into the body of the bird, which I decided was too much of a risk that the whole thing would shatter into a million pieces. Besides, if he sat outdoors in a tree, the paint would be likely to wear off pretty soon.
It took the pressure of my mom's June birthday for me to finish up the project. At Midnight Sun in 5-Points, I shopped for a display stand and instead found a wooden dish sculpted like a pair of hands, as in, a bird in the hand(s). Half a bag of raffia later, I had a cute nest that keeps the blue jay sitting up straight. Tah-dah! A birthday present for Mom. She loves it!
The finished Bird in the Hands (2019).
Another view of finished Bird in the Hands (2019).